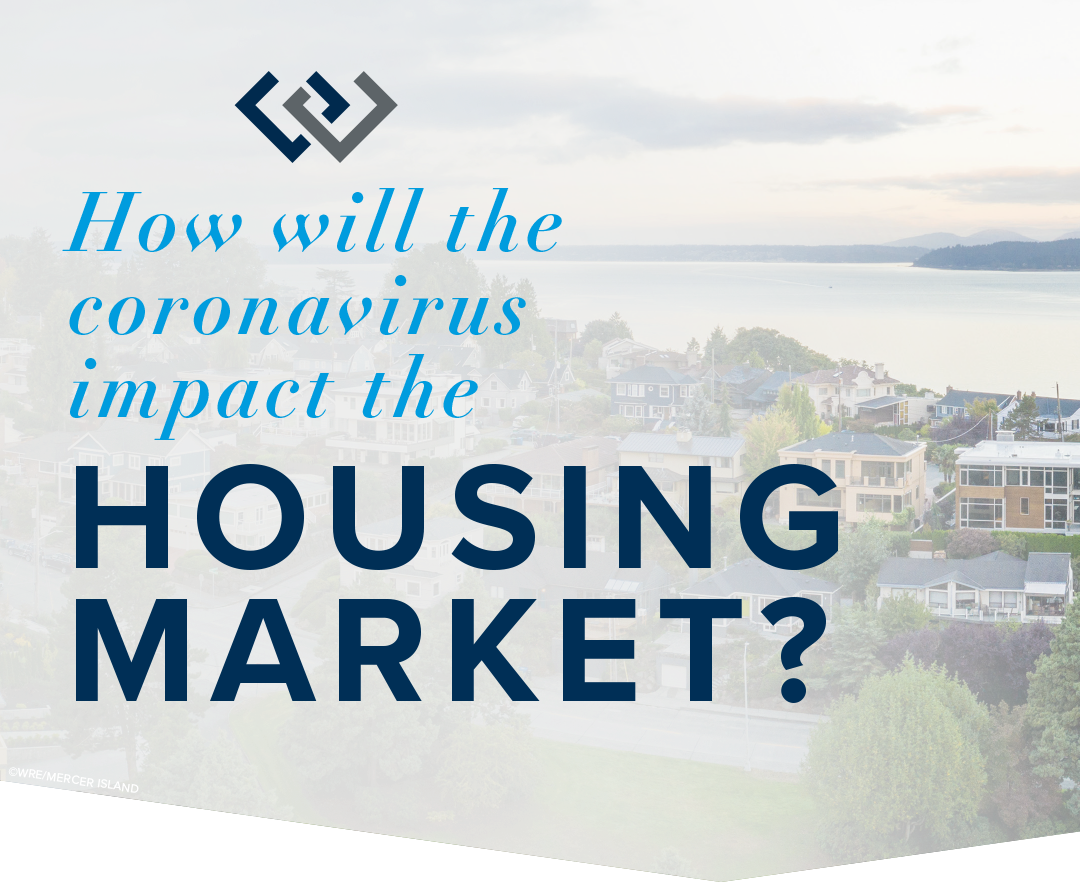 As we all hunker down through these challenging times, it is comforting to remember that there will be light at the end of the tunnel.
A voice of calm and reason in this time of uncertainty has been our Windermere Chief Economist, Matthew Gardner. While he is expecting an economic slowdown accompanied by a temporary 15-20% reduction in the number of homes sold, he believes the housing market will bounce back once we find our new normal.
Click here to watch his latest videos, or scroll down for some key takeaways…
---
The US economy will contract sharply but should perk up by Q4.
We're in for a rough few quarters as the economy enters a recession. Just how rough—and how long—is still under debate. What economists do agree on is that the 4th quarter is looking remarkably positive…assuming we get through the COVID-19 crisis and the economy can resume somewhat normal activity before the fall.

---
Housing prices will likely remain stable.
Seattle home prices should remain steady—or even rise slowly as we come out of the recession—for a few reasons:
DIVERSE INDUSTRIES IN OUR AREA which allow us to better weather the economic storm.
SOLID FINANCIAL FOOTING as one third of local home owners have 50% or greater equity in their homes.
STRONG DEMAND with more buyers than homes available, as well as rock-bottom interest rates.

---
This will be different than 2008…
We're experiencing a health crisis, not a housing crisis.
WE'LL SEE A PAUSE, NOT A COLLAPSE. Unlike last time, the housing market was strong going into this crisis and should rebound quickly. Why? Because this recession will be due to specific external factors rather than any fundamental problem with the housing market.
FORECLOSURES WILL BE FEWER with most lenders offering relief to homeowners in distress due to temporary employment issues. Unlike 2008's mortgage crisis caused by lax lending standards and low down payments, today's home owners are better qualified and have more equity in their homes.

---

Find a Home | Sell Your Home | Property Research
Neighborhoods | Market Reports | Our Team
We earn the trust and loyalty of our brokers and clients by doing real estate exceptionally well. The leader in our market, we deliver client-focused service in an authentic, collaborative and transparent manner and with the unmatched knowledge and expertise that comes from decades of experience.
2737 77th Ave SE, Mercer Island, WA 98040 | (206) 232-0446
© Copyright 2020, Windermere Real Estate / Mercer Island
Posted on April 7, 2020 at 12:45 pm
Windermere MI
Category:
Uncategorized
Tagged

coronavirus, COVID-19, equity, home prices, Housing market, interest rates, Market Reports | Tagged buy, Matthew Gardner, Puget Sound, real estate, recession, Seattle, sell
Originally published on Windermere Blog; authors Jill Jacobi Wood, OB Jacobi & Geoff Wood
Well, it's December; the time of year when we look to our crystal ball and offer our housing market predictions for the coming year. And by crystal ball we mean Windermere's Chief Economist, Matthew Gardner, who has been travelling up and down the West Coast giving his annual forecast to a variety of real estate and financial organizations. Last month's surprising election results have created some unknowns, but based on what we do know today, here are some thoughts on the current market and what you can expect to see in 2017.
HOUSING SUPPLY: In 2016 the laws of supply and demand were turned upside down in a majority of markets along the West Coast. Home sales and prices rose while listings remained anemic. In the coming year, there should be a modest increase in the number of homes for sale in most major West Coast markets, which should relieve some of the pressure.
FIRST-TIME BUYERS: We're calling 2017 the year of the return of the first-time buyer. These buyers are crucial to achieving a more balanced housing market. While rising home prices and competition will act as a headwind to some first timers, the aforementioned modest uptick in housing inventory should help alleviate some of those challenges.
INTEREST RATES: Although interest rates remain remarkably low, they will likely rise as we move through 2017. Matthew Gardner tells us that he expects the 30-year fixed rate to increase to about 4.5 percent by year's end. Yes, this is well above where interest rates are currently, but it's still very low.
HOUSING AFFORDABILITY: This remains one of the biggest concerns for many West Coast cities. Some markets continue to see home prices escalating well above income growth. This is unsustainable over the long term, so we're happy to report that the rate of home price appreciation will soften in some areas. This doesn't mean prices will drop, but rather, the rate of growth will begin to slow.
Last but not least, we continue to hear concerns about an impending housing bubble. We sincerely believe these fears to be unfounded. While we expect price growth to slow in certain areas, anyone waiting for the floor to fall on housing prices is in for a long wait. Everything we're seeing points towards a modest shift towards a more balanced market in the year ahead.
Photo credit: Andrew O'Neil
This blog post originally appeared on Windermere Blog, author Matthew Gardner.
ECONOMIC OVERVIEW
Annual employment growth in Washington State slowed somewhat in the third quarter of this year, but still remains well above the long-term average. Additionally, the jobs that are being created are primarily quality, high-paying positions, which is important for the health of our economy.
Unemployment in the state remains at levels that are somewhat higher than I would like to see, but this continues to be impacted by a growing labor force and modestly slowing job growth. I still expect to see the rate drop a little further as we move through the final quarter of the year.
HOME SALES ACTIVITY
There were 24,277 home sales during the third quarter of 2016—up by an impressive 7.9% from the same period in 2015, and 6.8% above the total number of sales seen in the second quarter of this year.
Skagit County saw sales grow at the fastest rate over the past 12 months, with transactions up by 25.6%. There were also impressive increases in home sales in Thurston, San Juan, Pierce, and Grays Harbor Counties. Sales fell slightly in Jefferson and Kittitas Counties.
Overall listing activity remains low with the total number of homes for sale at the end of the quarter 11.2% below that seen a year ago. That said, I'm happy to report that listings have been slowly trending higher in 2016.
I've been thinking about how sales can continue to rise while inventory remains so low. I believe this is due to an uptick in first-time buyers. These buyers have no home to sell, so they don't add to the number of listings; however, they do cause sales to increase when they buy. This is a good trend to see!
HOME PRICES
As demand continues to exceed supply, we are continuing to see upward pressure on home prices. In the third quarter, average prices rose by a substantial 10.2% and are 3.2% higher than seen in the second quarter of this year.
The current rate at which homes are appreciating cannot continue, and I anticipate that we will see a "cooling" start to take place in 2017.
When compared to the third quarter of 2015, price growth was most pronounced in Lewis County. In total, there were nine counties where annual price growth exceeded 10% and prices were higher across the entire region when compared to a year ago.
Although supply levels are slowly starting to creep higher, we are still solidly in a seller's market. Rising inventory levels should start to do a better job of meeting demand next year, which when combined with modestly higher mortgage interest rates, will see the region move closer toward becoming a balanced market.
DAYS ON MARKET
The average number of days it took to sell a home dropped by twenty-two days when compared to the third quarter of 2015.
All the counties that comprise this report saw the length of time it took to sell a home drop.
In the third quarter of 2016, it took an average of 52 days to sell a home. This is down from the 74 days it took in the third quarter of 2015, and down from the 67 days it took in the second quarter of this year.
King and Snohomish Counties remain the only two markets where it took less than a month to sell a home. Even though King County saw days on market rise slightly from 18 to 20, it remains the hottest market in the region.
CONCLUSIONS
This speedometer reflects the state of the region's housing market using housing inventory, price gains, sales velocities, interest rates, and larger economics factors. For the third quarter of 2016, I am moving the needle very slightly toward the buyers. This is entirely due to the recent increase in inventory levels that I believe will continue through the rest of the year. That said, the region remains steadfastly a seller's market.
Matthew Gardner is the Chief Economist for Windermere Real Estate, specializing in residential market analysis, commercial/industrial market analysis, financial analysis, and land use and regional economics. He is the former Principal of Gardner Economics, and has over 25 years of professional experience both in the U.S. and U.K.